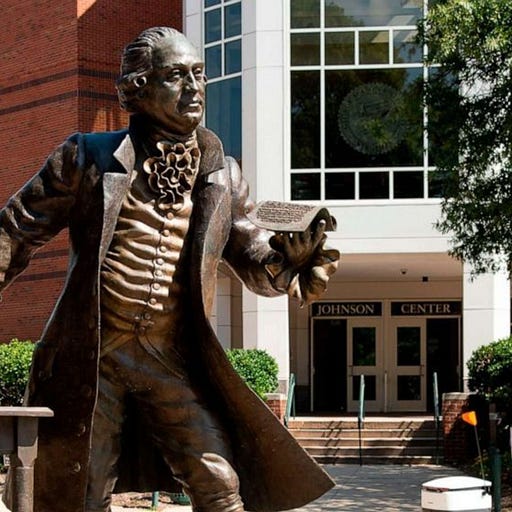 Aug 30, 2021 • 52M
Vaccine Mandates, George Mason, and the Bill of Rights
Bob talks about the issues that affect our lives on a daily basis from a purely libertarian standpoint. He believes in small government, fewer taxes, and greater personal freedom.<br /><br />America has lost its way, but it cannot and does not need to be reinvented. Our founders were correct about their approach to government, as were John Locke, Adam Smith and the other great political philosophers who influenced them. The country's first principles are economic and social freedom, republicanism, the rule of law, and liberty. Bob believes we must take the best of our founding principles and work from them because a country without principles is just a landmass.
"There is a Passion natural to the Mind of man, especially a free Man, which renders him impatient of Restraint." ― George Mason

George Mason is rolling in his grave. Or at least, he was, until Professor Todd Zywicki was finally exempted from George Mason University's new mandatory vaccination policy. Zywicki, a professor at the Antonin Scalia School of Law and frequent guest on the show of ideas, is no Anti-Vaxxer; he is, however, an ardent believer in the Constitution and Bill of Rights. These documents, if they are not to be considered artifacts, guarantee all Americans the right to privacy and the freedom from substantial interference with one's bodily autonomy without due process.

Zywicki was one of millions of Americans who already had the virus, and thus acquired the natural immunity that the vaccine is meant to mimic. That wasn't considered a good enough reason for GMU to exempt him, even though natural infection has been shown to create longer-lasting immunity. Faced with the threat of termination, Zywicki stood his ground – penning a WSJ article to make his case in the court of public opinion. He argued that those with prior infection were at a higher risk of adverse reaction, for a vaccine that would provide no proven additional benefits. Backed by the New Civil Liberties Alliance, and his attorney Jenin Younes, he then filed briefs to challenge the constitutionality of the workplace policy, which is becoming increasingly common across the country. Since then, the George Mason University administration backed down, but the legal questions are far from settled.

I was joined by Todd and his lawyer, Jenin to review the case that would have been argued – both on the grounds of the latest science around natural immunity, as well as the constitutional considerations around privacy and bodily autonomy. We may not know what George Mason would have thought about the studies showing the relative risks and benefits of vaccination for the naturally immune, but I'd be willing to bet that the founder who insisted on a Bill of Rights before ratifying the Constitution would have opposed his namesake's draconian mandate.